By: Chris Schaefer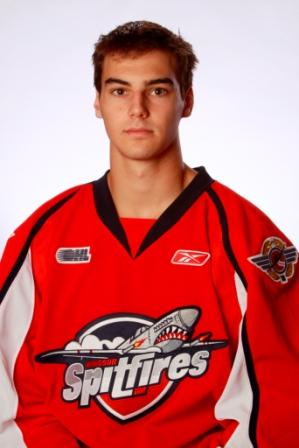 Twenty-year-old Eric Wellwood was one of a few Flyers prospects that got a look in the preseason. He has only played 11 games with the Flyer's AHL affiliate Adirondack Phantoms, but due to Andre Nodl's injury and Daniel Briere's suspension he has been called up to play with the big boys.
What could be more surprising then getting a call out of the blue telling you that your services are needed in the NHL? Finding out you'll be playing on a line with the captain Michael Richards and James Van Riemsdyk.
Wellwood says "The speed of the NHL isn't what he had to adjust to as much as the fact that everyone is in position all the time and if you're caught out of position the opposition will capitalize on it."
He showed great poise; in fact he looked like a natural in his first game at the NHL level. He seemed to find his place on the ice fairly easily and got a few offensive opportunities.
He had a game high 6 shots, a couple nice plays on the defensive end and logged over 13 minutes on the ice.
Wellwood most likely will head back to Adirondack when Nodl and Briere return, but look for him to fill in whenever someone goes down this season. He's hoping to make the most of his opportunity and prove that the Flyers should keep him around.
He could also serve as a breath of fresh air to the locker room and as a reminder to other players like Nikolay Zherdev that the Flyers have other options if they don't perform to expectations.
Wellwood looks to show his speed and his defensive prowess, which he claims are his best attributes.
Eric comes from a family of hockey players; his brother Kyle has logged some time with Toronto and Vancouver's NHL clubs over the past three seasons.
Keep an eye out for Wellwood, he is one of the few players in the Flyers farm system that could have an NHL impact in the near future.
This article was also published here:
Bleacher Report